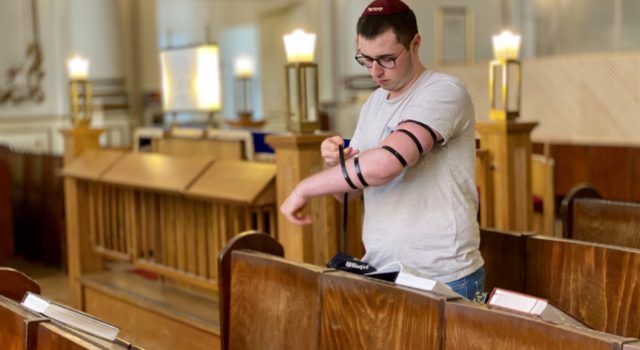 On 13, Oct 2020 | In | By Jan Tenhaven
HEY, I AM A JEW!
Hey, I Am a Jew! / Young. Jewish. German.
45 minutes | Documentary | ZDF | Nordend Film | Full crew list
"We are no aliens," they say, wanting only one thing: to finally be seen as normal young people. Eleven Jewish youths talk about themselves, their religion and anti-Semitic experiences.
What does it mean to often be the only Jew at the whole school? When you constantly have to deal with clichés and stereotypes? A film about everyday life for young people between sports field and synagogue, Torah and Instagram, Shabbat and party nights.
In German schoolyards "Du Jude!" is a common swearword. Anti-Semitic sayings, tasteless jokes and annoying prejudices are part of everyday life for young Jews in Germany. For them, it is a sad matter of course that they cannot wear their kippah or Star of David necklace openly everywhere – for fear of vulgarity and assault.
On the other hand, they want to get out of their role as victims. Ilan (20) says: "For many people we are a fringe group that is simply always humiliated. But it is wrong that we are reduced to that". And Paula (12) adds: "Yes, that's what I would like to see, that people don't look at you funny all the time."
The film shows that there is a lively, young Jewish life in Germany. As different as the Jewish young people are – religiously, atheistically, musically, athletically or technically interested: they all have one thing in common: they all want to be perceived not only as "museum pieces" (Roman, 19), but as active young people living in the here and now.
The documentary dispenses with commentary and consists exclusively of empathetic conversations with Jewish young people between the ages of 12 and 25, which the filmmaker Jan Tenhaven has conducted in Berlin, Frankfurt am Main, Osnabrück, Essen, Munich and Weßling. These conversations are supplemented by sober protocols of anti-Semitic incidents, read by Iris Berben.
German version / ZDF (available until 02/11/2021)
English version / Deutsche Welle (available outside Germany only)
Spanish version / Deutsche Welle (available outside Germany only)
Photos of Iris Berben: © Katharina Meirich
All other photos: © Jan Tenhaven