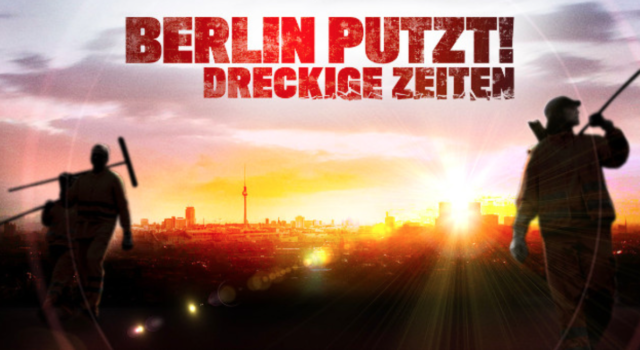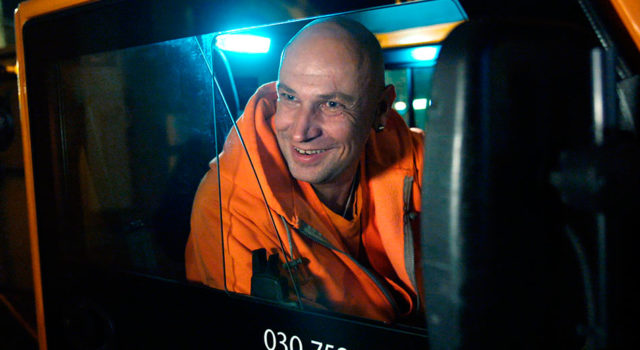 On 11, Feb 2018 | In | By Jan Tenhaven
BERLIN CLEANS! DIRTY TIMES
Original title: BERLIN PUTZT! DRECKIGE ZEITEN
5 x 45 Min. | Docu Series | RBB | BASIS BERLIN Filmproduktion | 2018 | Full crew list
Without them Berlin would suffocate in the garbage, they are the heroes with mop, broom and dustpan: all the hard-working street sweepers, toilet men, cleaning ladies, chimney sweepers, dump truck drivers, industrial climbers and waste paper collectors.
Our 5-part documentary series wants to set them a small monument, and at the same time show the capital from unknown perspectives. Because cleaning is done everywhere. In the Deutsche Oper, in the Swingerclub, in the Neues Museum, in the S-Bahn, in the Schlagerpub and in the Hofbräuhaus, on Alexander Platz and Warsaw Bridge, in private apartments, in the Stadtbad Mitte, in the toilet container and under the roof of the Olympic Stadium.
Together with Florian Schewe I took over the overall direction for this beautiful project.
Trailer (short)
Trailer (long)
Watch full episodes (German only, password required):
Episode 1: Von Putzmännern und BSR-Energiebündeln
Episode 2: Von Saubermännern, Strippern und starken Jungs
Episode 3: Von verstopften Rohren und stillen Örtchen
Episode 4: Von Müllionären und Schornsteinfegerglück
Episode 5: Von mutigen Robotern und den Spuren der Sünde
Photos of  the  premiere with crew members and protagonists at the Delphi Lux Cinema in Berlin: